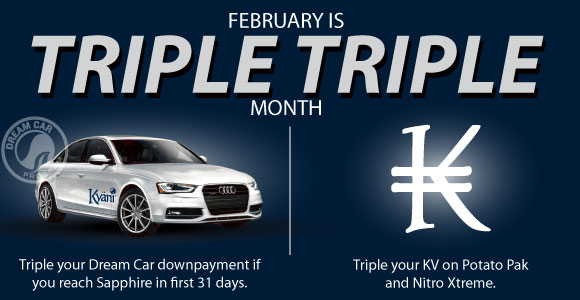 You've already heard that new Distributors can triple their down payment by reaching Sapphire in their first 31 days, then hit Sapphire or higher in the following month.
In February Kyäni is also offering to triple your KV on both Potato Pak™ and Nitro Xtreme™ 56ml.
This is your chance to boost your KV balance before Kyäni processes the annual 10% increase on your entire KV account balance in March.
As announced at the International Convention in January 2014, Distributors accumulate (from your sponsor tree, based on rank) Kyäni's newest volume, KV, on certain products as part of the new Kyäni Care program. Kyäni Founder and Chairman, Kirk Hansen, revealed that each Distributor's KV balance would increase by 10% every year.
The Kyäni Care program is a groundbreaking, industry-first loyalty bonus designed to reward Distributors for their long-term commitment and devotion to Kyäni. An eligible Distributor who has been with Kyäni for 5+ years may begin receiving Kyäni Care bonus payments.
Terms and conditions apply. See BackOffice for details and official rules.